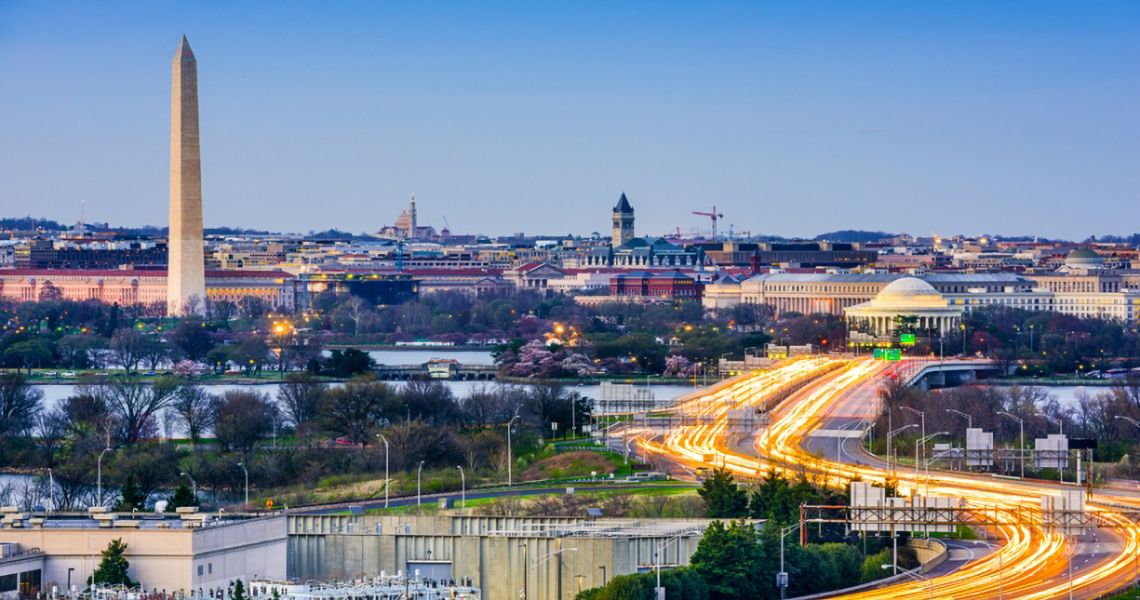 It's true that American history and legal buffs love our town, but we're not just the nation's capital! DC is a vibrant and diverse city in its own right. DC is a geographically small city, easily navigable on our extensive metro system, by foot, by bike, or by car. (Remember, residents get free parking!)
Local sports teams
Washington, DC is home to an NFL team (Redskins), an MLB team (Nationals), an NBA team (Wizards), an NHL team (Capitals), an MLS team (DC United), a WNBA team (Mystic), a WUSA soccer team (Freedom) and a World Tennis Team (Kastles). Because many folks living in D.C. have their roots elsewhere, it's not uncommon for visiting teams to have a significant fan bases at our home games. (That said, DC loves its Redskins and Capitals!) Sports stadiums and arenas are easily accessible from the Foggy Bottom neighborhood, and several of our faculty members are season ticket holders… making free tickets periodically available to our housestaff!
Runners
DC is a great town for running! We have many miles of running trails, including Rock Creek Park, the C&O Canal Toepath, the Custis Trail, and the Mount Vernon Trail. Running on the National Mall is just as popular and provides a great tour of our monuments. Don't miss the amazing views in early April when running around the Tidal Basin with its famed cherry blossoms. DC has many organized road races every year including marathons (Marine Corps Marathon, Rock-and-Roll Marathon), ten-milers (Army 10-Miler, GW Parkway Classic, Cherry Blossom Run), and countless charity 5K and 10K races.
Bikers
In 2015, DC was named America's seventh most bike-friendly city. It's no wonder why with our many miles of dedicated bike trails, marked bike lanes throughout the city, and the explosion of Capital Bikeshare, a local bike rental company with pick up/drop off points throughout the city, including three within easy walking distance of GW hospital.
Museums
If you like museums, DC is for you! We were named Travel & Leisure's #1 City (2016) for museums, history and free attractions.  There are too many to name, but note that all Smithsonian museums (you've heard of these – Air and Space, American History, Natural History, National Gallery of Art, etc) are free to the public and open nearly every day of the year. We also have countless other non-Smithsonian museums to strike your fancy on a relaxing day off. Don't even get us started on monuments – but some of our favorites are the Lincoln Memorial, the Vietnam Memorial, the Martin Luther King, Jr. Memorial, and the Franklin Delano Roosevelt Memorial.
Outdoors
Just because you live in a city doesn't mean you can't go hiking! Rock Creek Park offers hiking trails right in the city, and just outside of the city in Virginia and Maryland are several other beautiful trails, including Great Falls National Park. Those willing to drive a couple of hours out of the city are rewarded with the beautiful views of Shenandoah National Park.
Performance
The Kennedy Center, located just a few blocks from GW Hospital, is a famous site for touring Broadway performances, ballets, operas, musical and dance acts, and plays. Theatre and dance lovers will also find many other venues to choose from with shows every weekend (and many week days). Arena Stage has a reputation for premiering musicals before they make it to Broadway. Those preferring more eclectic theatre performances will love the Woolly Mammoth Theatre. Don't forget to check out the Howard Theatre (supper club) and to brush up on your Shakespeare with one of our two Shakespeare theatre companies (Shakespeare Theatre Company and Folger Shakespeare Theater). And if you're a dancer, DC's own Congresswoman Eleanor Holmes Norton is responsible for Congress declaring the last Saturday of July "National Dance Day," complete with an annual celebration right here in own.
Music
As a major stop for touring bands, DC's Verizon Center is just one of several venues in the city to host big-name stars. DC also has an active live-music scene with many genres from which to choose and several venues, including the Black Cat and 9:30 club, which are regular stops for popular bands who prefer to avoid stadiums and arenas. For those willing to drive beyond the city's borders, check out Wolf Trap National Park for the Performing Arts in Virginia and Merriweather Post Pavilion in Maryland.
Restaurants
DC was named Restaurant City of the Year (2016) by Bon Appetit! Our city has too many restaurants to count, of every ethnic heritage, atmosphere, and price range you could desire! Remember, as the nation's capital, we are a crossroads for immigrants and international travelers… and people who are too busy to cook their own dinners.