Overview
The George Washington University offers a one-year clinical vascular neurology fellowship program. Our goal is to train highly skilled, professional and compassionate specialists in vascular neurology. Our program has a strong clinical focus with an understanding of the importance of engaging in research to better the lives of the patients in our community, as well as regionally and nationally. We place a strong emphasis on practicing evidence-based medicine but holistically applying the knowledge to the needs of the individual.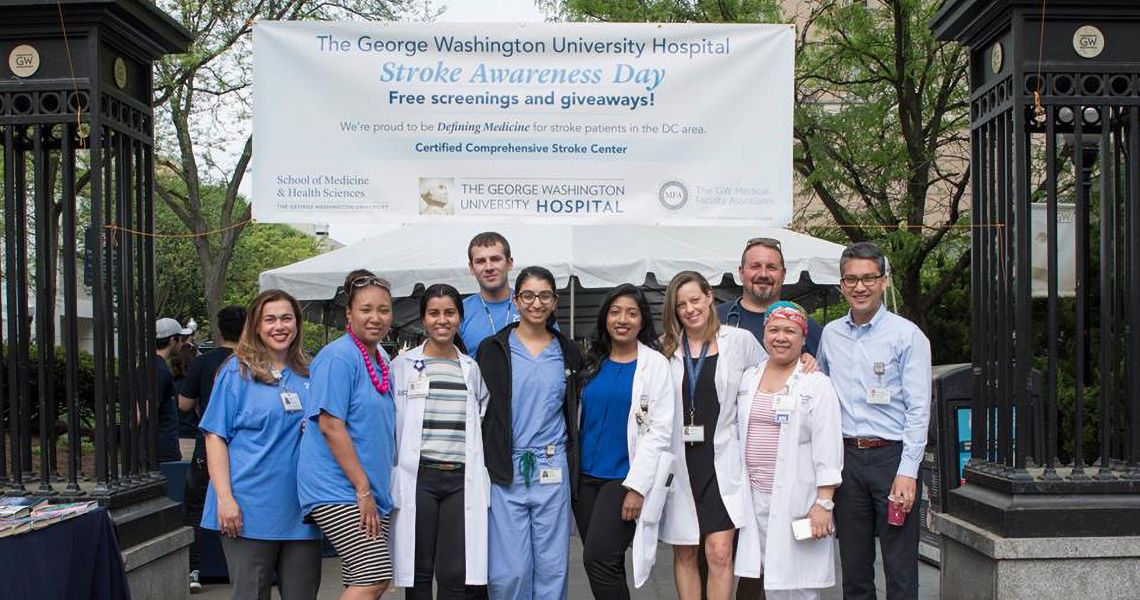 Application Process
We currently have an open position starting November 15, 2023 for a one year vascular neurology fellowship. We are ACGME accredited (1881018801) and for one position starting July 1, 2024 via through ERAS.  We plan to offer interviews in December 2023 and being interviews in February 2024.
Eligibility
To be eligible for the Vascular Neurology Fellowship, you must:
be a graduate of any LCME (Liaison Committee on Medical Education) or AOA (American Osteopathic Association) accredited medical school, or an international medical graduate who holds a valid ECFMG (Education Commission for Foreign Medical Graduates) certificate. International medical graduates must have one of the following: 

U.S. Citizenship
Permanent legal residency status (i.e. green card)

be in good standing with, and anticipated completion of, an ACGME accredited Adult Neurology Residency 

be eligible for board certification in Neurology by the American Board of Psychiatry and Neurology 

be eligible to obtain a full, unrestricted license to practice neurology in the state of Virginia and the District of Columbia 
Application 
Applications will be accepted and reviewed via the Electronic Residency Application Service (ERAS). The program participates through the NRMP Vascular Neurology Match Process
Application Requirements:
3 Letter of Recommendation
Medical School Transcript 
Copy of Medical School Diploma 
Copy of Medical Education Exam Scores (National Boards, FLEX, ECFMG exam and valid exam and valid certificate, FMGEMS, USMLE, COMLEX)
Personal Statement
Timeline for Application, Interview, and Selection Process
| | |
| --- | --- |
| ERAS opens | November 15th, 2023 |
| Application Deadline | December 6th, 2023 |
| Interviews | February 2024 |
| Rank Order Certification | April 17th, 2024 |
| Match Day | May 1st, 2024 |
Curriculum 
13 (4-week) Block Rotations
Inpatient Stoke Wards at GWU  (7 blocks)- Fellows are responsible in providing clinical care for the inpatient stroke and consultation service. The fellow is expected to lead formal rounds and provide education and oversight for the rotating residents and medical students. Home-call, similar to the call taken by the attendings, is expected during the inpatient stroke ward months. The fellow is expected to round and cover two weekends during each block.
Neuro-ICU at GWU (1 block)- Fellows have an opportunity to work in the Neuro-ICU with our trained Neuro-intensivist team.  You will have the opportunity to participate in procedures and ventilator management.  No call or weekend coverage is expected on this rotation.
Inpatient Acute Rehab at GWU (1 block)- Fellows are expected to learn the basics in acute stroke recovery. No call or weekend coverage is expected on this rotation.
Neuroradiology at GWU (1 block)- Fellows are given the opportunity to work closely with neuro-radiology reading cerebral MRI, CT, and ultrasound imaging. No call or weekend coverage is expected on this rotation.
Outpatient Stroke at GWU - The fellow will have one 1/2 day of stroke new patient and follow-up clinic per week staffed by a vascular neurology attending.
Research and Quality Improvement (2 blocks)- Fellows are expected to serve as a sub-PI for all clinical trials and screen and enroll patients during business hours. Additionally, the fellow is expected to engage in an independent scholarly project. No call or weekend coverage is expected.
Conferences- the fellow is expected to attend the International Stroke Conference.
Vacation (1 block)- 4 weeks of vacation per year.
Example Schedule
1

2

3

4

5

6

Stroke  GWU

Research/

Stroke Gwu 

Stroke  GWU

Neuroradiology

Stroke GWU

Research/

Stroke GWU
| | | | | | | |
| --- | --- | --- | --- | --- | --- | --- |
| 7 | 8 | 9 | 10 | 11 | 12 | 13 |
| Stroke GWU | PM&R/ ARU | Research/ Stroke GWU | Outpatient GWU | Stroke GWU | Research/ Stroke GWU | Vacation |
Core Faculty

Mark D. Baker, MD
Vascular Neurology Fellowship Program Director
Assistant Professor of Neurology
Vascular Neurology Fellowship: Vanderbilt University Medical Center

Fernando Mayor Basto, MD
GWUH Stroke Program Director
Assistant Professor of Neurology
Vascular Neurology Fellowship: Cedars Sinai Medical Center

Asish Gulati, DO
Assistant Professor of Neurology
Vascular Neurology Fellowship: Emory University Medical Center

Dimitris Sigunas, MD
GWUH Endovascular Program Director
Associate Professor of Neurology
Endovascular Fellowship: NY Presbyterian-Cornell Hospital

Sean Madden, MSN, RN
Stroke Program Manager

Crystal Woods
Fellowship Coordinator

Yaminee Nandamuru, MD
Current 2023-2024 Vascular Neurology Fellow
Residency: George Washington University